In 2015, we have created a small trails network at the Erissos Peninsula of Kefalonia island. The Peninsula is known for Fiscardo, a picturesque harbour. The trails start all from Fiscardo and are easy to hike, even in summer, as they are under tree shade. The unveil all the cultural and natural beauties of the area. In 2017 we have worked on the maintenance of the trails and added one additional trail.
Paths of Greece has developed these trails for the Cultural and Environmental Association of Erissos "Asteris" with the financial support of Raycap corporation.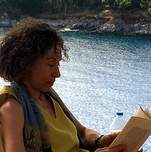 Childhood memories of the old footpaths connecting the numerous villages of the northern tip of Cephalonia, known as Erissos, to each other and to the sea, inspired us to entrust the project of rediscovering and signposting, to Fivos' expertise.
A network of three different footpaths is now complete for the enjoyment of the visitor and hopefully the local inhabitants as well. Some footpaths are easy, others are more challenging and all offer the experience of breathtaking scenery, interesting villages and sights that reveal the rich and layered history of the area.
I recently returned from a week long stay in Fiskardo and just wanted to thank you for the most amazing walking experience. […]

I loved my stay in Greece and my time walking on your trails is truly one of the highlights of my life. I am so grateful for the work you are doing and thought you would like to know that there is someone in South Carolina who sincerely appreciates your organization.