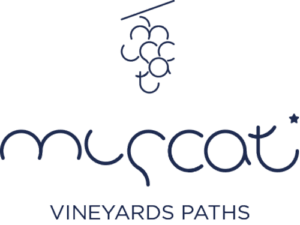 Samos was given a great hiking route, called Muscat Vineyards Path, dedicated to the production of muscat wine. In the broader area of Vourliotes village, at the slopes of Karvounis Mt. we have unveiled and way-marked a 10km long trail. The trail presents all the important sites of the area, having as a main thematic the production of Muscat wine.
The Muscat Vineyards Path has been realized with under the initiative and support of METAXA. The famous company wanted to highlight in this way the beauty of the area where it gets its raw material from.
Along the route one can see the numerous terraces with vineyards, sources, creeks, the old Vronta Monastery and other chapels, and read about nature, mythology, history and other information on the thematic boards installed. The texts on the boards have been written by the team of Diadrasis, after the cultural fieldwork they did for this project. Enjoy your walk on the Muscat Vineyards Path!
Paths of Greece has developed these trails for the community of Vourliotes, with the kind sponsorship of METAXA.
The map has been designed by Staridas Geography.